MY ACCOUNT
SOLUTIONS
MINI PC SYSTEMS
REFURBISHED ITEMS
PARTS & PERIPHERALS
WORLDWIDE SHIPPING

We ship worldwide via
UPS and DHL


SHOP ONLINE
WITH CONFIDENCE
CONTACT US
Sales
800-955-5884
Support
631-231-1800
Fax
631-231-4842
Hours of Operation
Mon-Fri
9AM - 6PM EST
Mocha P4 Product Specifications
---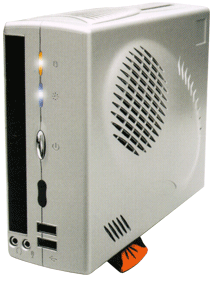 The Mocha P4 PC size advantage makes it ideal for places where space is at a premium or for those who work in several fixed locations at once and want to be able to access the same data everywhere. Mocha P4 is a PC that is so flexible, efficient, compact and portable technically knocks down all existing desk top PCs. Choosing a big and bulky inappropriate PC has become an obsolete way of thinking. The over all technology of other mini-book PCs around is still far from our achievement today. Take advantage of the new breed PC of tomorrow and experience the next generation way of computing.
Processor

Intel P4 Processor
Support Processor 478-pin
CPU system bus at 400 / 533 MHz



System Chipset

SIS 651

Memory
0KB on-board
Two 200 pins DDR SODIMM slot supports DDR266/333 SODIUM module at 128MB, 256MB, and 512MB
Support up to Maximum of 1GB RAM


Video

Max. 64M Video RAM (Share memory)
AGP 2.0 compliant (4X)
Built-in full-motion video
Hardware motion compensation for Software MPEG-2 (DVD playback)
Support for up to 1600 by 1200-pixel resolution at 24bits per pixel (16.7 millions of colors)



Data and Media Storage

One 2.5 inch 12.5mm high Hard Disk (ATA 133/100/66)
One ATAPI-IDE interface for high speed slim type CD-ROM or DVD-ROM, CD-RW, DVD-COMBO
Support external USB floppy drive



Speakers and Audio

Built-in Sound
Built-in Speaker
One Mic-in port (Front)
One ear Phone (Front)
One Line-out Port
One Line-in Port
One SPDIF Port



Communications
Built-in IrDA
One Intel Pro 1000 MT Desktop Gigabit Faster Ethernet (RJ45)
One Realtek 8139 10/100MB Fast Ethernet (RJ45)
Built-in PCTel HSP56MR 56K V.90 Modem (RJ11)


Peripheral connections
TV-Port to NTSC/PAL Television (One S-Video Port, One AV-Video Port)
Two 4 pins mini type Firewire 1394
Four USB 2.0 Ports (Front x 2, Rear x 2)
One Type II PCMCIA slot (For wireless...)
1 Serial, 1 Parallel, 2 PS/2


Electrical Requirements
Auto sensing AC Input 110-240V at 2.5A, DC output 20V at 6.0A
Powered by AC Adapter


Weight and Size
System approximately 1250g (2.75 lbs)
System Dimensions: 198x161x62 mm (7.79" x 6.33" x 2.44")


Operation System

Windows 98 SE
Windows 2000
Windows NT
Windows ME
Windows XP
Linux

Position - Provides dual resting option position with either standing upright mounted on an open flap stand or simply lying flat on its belly. Both sides have a set of non-slipping rubber stands to avoid panel scratch.




EZCooling System Type III - Strong performance using special copper annexed with our patent pending design, the heat sink dissipating the quick thermo emitting P4 CPU away from the PC housing in a snap of time.
USB 2.0 (480 Mb/s) - The USB 2.0 specification will extend performance by up to 40 times over existing capabilities. USB 2.0 is fully compatible with USB 1.1, and uses the same cables and connectors. The higher bandwidth of USB 2.0 will permit PC peripherals with more functionality, including higher resolution video conferencing cameras, next generation scanners and printers, fast storage units, and faster broadband Internet connections. The higher data rate of USB 2.0 will also open up the possibilities of new and exciting peripherals.
I/O Ports - User friendly design for easy interface action with digital cameras, cell phones, PDAs on a point to point near distance IrDA function and USB 2.0 (4x) with 480Mb/s for hot plug peripherals connectivity which retains downgrade compatibility located in front of the panel while all the other I/O ports are properly stationed at the back.
GIGA LAN - LAN signal protocols that permit data rates up to 1000Mbps 10 times the speed of widely used 10/100base T Ethernet.
S/PDIF - S/PDIF (Sony/Philips Digital Interface) is a standard audio transfer file format. It is usually found on digital audio equipment such as a DAT machine or audio processing device. It allows the transfer of audio from one file to another without the conversion to and from an analog format, which could degrade the signal quality.