The arm can fold up to fit in about 2" of space
It can extend to 24" from where is mounted
Adjustable gas cylinder creates a counterbalance, LCD display between 8-22 lbs.
Over 14" of vertical movement about 7" up and 7" down
Arm rotates 360° at three joints, the tilt mechanism can tilt over 200°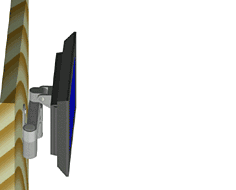 The arm floats the display above the work surface clearing the desk and saving valuable space. With little effort, the user can move their LCD up or down, forward or backward, left or right and tilt 200°. In addition, the monitor can be leveled, right and left, up to 90°. The arm uses an adapter plate which attaches to the back of the display. Also included is a universal mounting kit. This kit, allows the user to choose either a clamp, wall or through the desk type mount.
Mounting Options

The 7000 Series LCD Monitor Arm includes the new mount kit which can be adapted toward several different mounts; desk edge, wall mount, reverse wall mount, and through desk mount. With the addition of the optional adapter brackets, this mount can attach to the steel case, Haworth, Herman Miller, and others, as well as specialized back panel slot walls such as SBFI, Woodtronics, CBA, LaCour, Novalink, Wall Street Trading, etc.
Edge Mount
Wall Mount
Thru-Desk
Mount
Reverse Wall
Mount
Panel System
Mount
Slat Wall
Mount

| | | | |
| --- | --- | --- | --- |
| | 7000 Series LCD Radial Arm (Beige) | $229.00 | |
| | | | |
| --- | --- | --- | --- |
| | 7000 Series LCD Radial Arm (Black) | $229.00 | |

Adjusts the screen to the most comfortable viewing angle
Holds the screen in any position without the need for knobs or levers
Arms provide up and down, left and right, front and back pivot and tilting capability
Provides counter clockwise and clockwise rotation of the arm
Meets VESA standard, two mounting plates specs are provided: 75mm x 75mm and 100mm x 100mm
Capability of monitor from 3 kgs to 8 kgs for various demands for each user
Y-Y connector easily adjusts in different comfortable viewing
Cable location helps to organize the cables in order
Screen pivots 180 degrees front or back
Screen pivots 180 degrees up or down
Screen pivots 270 degrees left or right

LA-01 LCD Flat Panel Monitor Arm Standard Clamp Type (Gas system up to 6kgs)
Please Call
for Price

Multi-knobs
Save space and safety
Adjusts the screen to the most comfortable viewing angle
Holds the screen in any position without the need for knobs or levers
Arms provide up and down, left and right, front and back pivot and tilting capacity
Provides clockwise direction and counter clockwise rotation of the arm
Meets VESA standard (Video Electronics Standards Association)
One mounting plate spec is provided: 75mm x 75mm and 100mm x 100mm
SUSPA series gas spring ensures the stability of product and strength of quality
LA-20 using 1100N for capacity 3 to 8 kgs
Y-Y universal joint using material of aluminum alloy connection easily adjusts in different comfortable viewing. It allows adjusting universal joint tension with monitor of different weights.
Cable location helps to organize the cables in order on both of body sides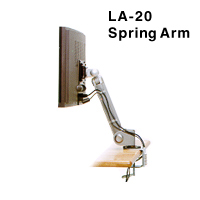 LA-202 Grommet Mount for LA-20
Please Call
for Price
LA-203 Mobile Desktop for LA-20
Please Call
for Price
| | | | |
| --- | --- | --- | --- |
| | LA-20 Multi-Functional LCD Arm Sprint Arm | $119.00 | |
| | | | |
| --- | --- | --- | --- |
| | LA-201 Standard Clamp for LA-20 | $20.00 | |

HA-100 Hospital LCD TV / Monitor Arm
Ideal for most environments, including hospital, dentist and leisure
Built in gas spring aids ease of movement
Height adjustment 20° to 60°
Overall Reach 1725mm
Conforms to both 75mm and 100mm VESA standards
Manufactured from aluminum alloy and coated with a special PVC covering allowing clinical cleaning
Ideal for clean room environments
Fully cable managed, concealing untidy cables
Available in both wall and ceiling mounts
Weight capacity 1 ~ 6 kgs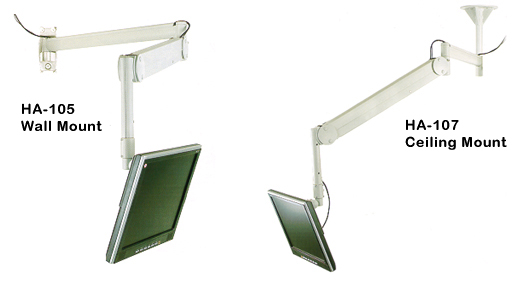 Detail Measurements

HA-105 Hospital LCD TV/Monitor Arm (Wall Mount)
Please Call
for Price
HA-107 Hospital LCD TV/Monitor Arm (Ceiling Mount)
Please Call
for Price